Veterinarians – competent partners for animal health
For livestock farmers, veterinarians are competent contact partners. They answer all questions on health management in poultry, pig and cattle farming businesses in the QS scheme. The basis of cooperation within the QS scheme is a common goal: healthy animals.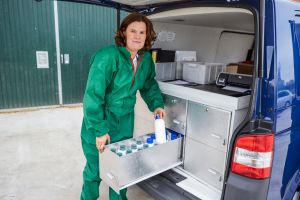 ---
Systematic quality assurance from farm to shop

Veterinarians are partners in the QS scheme. The quality scheme guarantees quality assurance across all stages in the production of meat and meat products. This begins with the analyses of feed and continues in businesses which keep cattle, pigs and poultry. The subsequent production and marketing stages all the way through to the shop counters in food retail stores are also subject to controls.
Only products which have passed all stages of the QS scheme may be labelled with the QS certification mark. This means that the blue certification mark stands for seamless quality assurance – from farm to shop.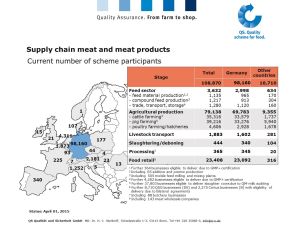 ---
Antibiotics monitoring in the QS scheme
Working together to minimise the risk of resistances. In the antibiotics monitoring programme, veterinarians, poultry, cattle and pig farmers collaborate with QS to create a basis for optimising the use of antibiotics in livestock farming.
---
Salmonella monitoring in the QS scheme
With salmonella monitoring in the QS scheme, farmers, veterinarians, abattoirs and laboratories have been actively contributing towards the quality assurance of foods for more than ten years.