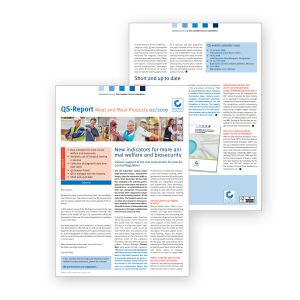 The autumn issue of the QS Report Meat and Meat Products has been published and can now be read and downloaded in the media catalogue of the QS website. To receive the QS report regularly and free of charge by e-mail, please register on the QS website under Press & Publications.
In the new issue we report on the new indices of QS for biosecurity (BSI) and livestock farming (THI). Our cover story shows how these can help to classify your own company in relation to comparable companies and how they can also help with risk assessment within the framework of the new EU control regulation.
In the QS Report Meat and Meat Products you will also find an article on the declining use of antibiotics in livestock farming and many other topics on which QS is currently working.
QS Report Meat and Meat Products (Issue 2/2019) - View and download here