QS. Quality scheme for food.
---
Systematic quality assurance from farm to shop
The QS quality scheme for food is an inspection scheme for food from farm to shop that is unique in Europe: since it was founded in 2001, it has been a byword for thorough inspections, reliable traceability and clear labelling of food you can trust.
More information on the structure of the inspection system

---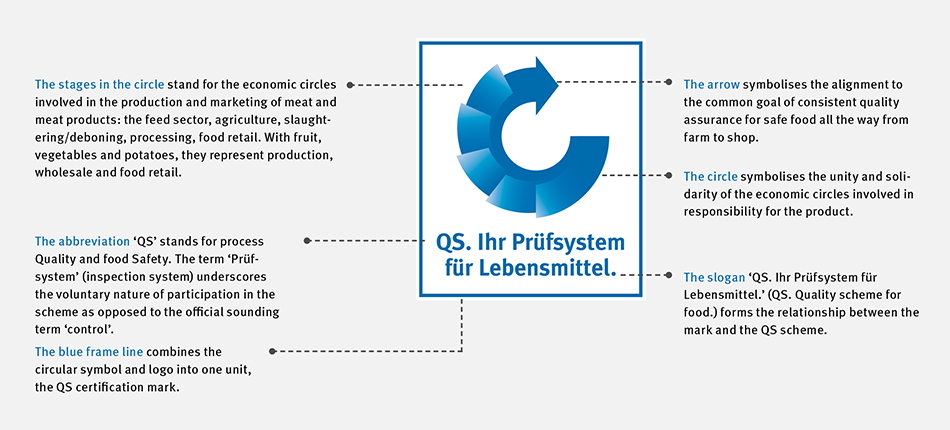 ---
The QS certification mark: symbol for fresh food of controlled quality
The QS certification mark on fresh food products tells the consumer that the requirements of the QS scheme have been satisfied in all stages of the production and marketing of the product. It renders cross-stage quality assurance visible, thereby forming the basis for informed purchase decisions.
Login for the "usage of the certification mark"
Oliver Thelen
Usage of the certification mark
✆ +49 (0) 228 35068-130
⎙ +49 (0) 228 35068-16130
---
All the information - safely stored
The database handles the task of data management in the QS scheme. The Web-based application is the interface for scheme participants, certification bodies, auditors, veterinarians and laboratories. The database is where the master data of the scheme participants and all audit and test results are recorded and interlinked. Alongside this database, there is also the salmonella database and the antibiotics database.
---
Service for businesses on the ground: QS guidelines and checklists
The requirements defined in the guidelines are adapted to the real-world working situation in businesses and companies. Our checklists are practice-oriented documents that scheme participants can use for self-assessment. The independent inspections by the auditors build on these checklists. This generates trust among consumers - from farm to shop.
To the guidelines and checklists
Constructive critique and suggestions on our guidelines are welcome at any time. Please use the contact form.
---
Everyone delivers quality to everyone
Almost 130,000 scheme participants in Germany, in Europe and worldwide produce and market food you can trust. See for yourself how widespread quality assurance is thanks to QS - by clicking on the graphics.
---
The bodies in the QS scheme
The QS scheme is a voluntary industry initiative and cooperates closely with industry - particularly in the various QS bodies. Experts from all stages supervise the work of the quality assurance scheme on the advisory boards, the board of trustees and the sanction board.
---
International agreements and recognitions
Participation in the QS scheme ensures comprehensive quality assurance that does not stop at national borders. Companies from other countries can participate in the QS scheme either directly or based on recognition of other standards and schemes. This secures the availability of goods and helps to ensure a uniform standard of food safety on European level.
QS agreements / mutual recognitions