Industry breakthrough in networking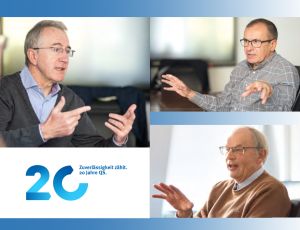 Dr. Hermann-Josef Nienhoff: On 24 November 2000, the first case of BSE was discovered in Germany. What was your experience of that day?
Dr. Helmut Born: Everything changed on that evening. For us, BSE was a just British problem until that point. When 170,000 cases of BSE appeared in Great Britain in 1993, the EU pushed through a ban on feeding meat meal. This is important to remember. Aside from a few Galloway cattle that were pulled from German pastures in 1996, BSE was supposedly not a concern for us. Then came the Friday we will never forget. That very Sunday, we held a telephone conference with anyone who was anyone in the agricultural, feed, livestock, meat and food industries. Everyone was completely unnerved – our own people in the food chain, and consumers even more so. How should we respond? First of all, on the Monday morning, a joint telephone hotline with experts from all the relevant associations was switched on, and it did not fall silent for three days and three nights. This was the beginning of the BSE crisis for us.
Guido Siebenmorgen: At the time, I was the new Head Buyer for fresh meat at the REWE head offices and had been in the post for just six weeks. Within a few days, the entire market for fresh meat collapsed. That's when you very quickly realise something that many of today's market players ignore: as an individual company, you don't have much influence. What should we do as REWE? We only buy certain sections of a pig. Other sections from the same animal go to other retailers or into the meat product industry. So, it wasn't too hard to see that in this market, quality standards could only be ensured collectively by the industry as a whole.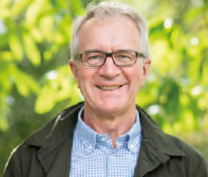 Dr. Hermann-Josef Nienhoff has been the Managing Director of QS since 1 November 2002. As an agricultural economist, he previously worked for the German Farmers' Association (DBV) for eight years and at SGS, the inspection, verification, testing and certification company, for eleven years.
What necessary conclusions did you draw?
Guido Siebenmorgen: I invited all our suppliers to a meeting. So the entire high society of the meat and prepared meat industries sat at one table, and it became clear to me that the industry had no idea what it should do next. A joint crisis statement could not be expected. Everyone knew what not to do. But nobody could say what should happen. That day I realised that I was going to campaign for an industry-wide solution that incorporated the entire supply chain.
Dr. Helmut Born: The relationship between food retailers and farmers, but also between the individual feed, meat and agricultural sector stages was special, to say the least. We have had to learn that some things can be separated, for example, normal market development and our collective responsibility for people to regain their trust in the food chain. I was personally very moved that this was possible at the time. 
We have had to learn the lesson that some things
can be separated. 
Dr. Helmut Born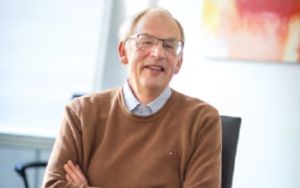 Dr. Helmut Born was General Secretary of the German Farmers' Association from 1991 to 2013. He contributed significantly towards accelerating the establishment of QS.
Dr. Hermann-Josef Nienhoff: Building trust by working together as a chain – that is what you identified as the solution back then. 
Guido Siebenmorgen: My first thought was: to find an industry-wide solution, the retailers must first come together. Although many market players don't like to hear it, it is the retailers who ultimately decide what happens within the chain in these markets. However, an industry-wide solution only works in the long term if the entire supply chain operates on an equal footing. This was ultimately the reason why QS was formed. It was and still is a unique scheme.
Dr. Helmut Born: We had to balance far more than a handful of decision makers. The Farmers' Association cannot act like a company, of course. The interests of stakeholders diverge greatly between north, east and south, for instance, including in the processing industry.
How did you unite these interests?
Dr. Helmut Born: When a large network is first brought together, you need a few people to help pull things along. And sometimes some external pressure helps, as in this case. In retrospect, I'm extremely glad that such a unique organisation was born out of such a difficult situation. For us, it was important that there were different stages that acted on their own authority on a level playing field, and assumed responsibility for the criteria. Emphasising the importance of control and documentation to everyone was difficult among the agricultural community. It was a big issue for independent farmers. 
Guido Siebenmorgen: Leaders from the retail companies met and were quickly in agreement that the goal had to be an industry-wide solution. A crucial part of implementing this solution was for the retail leaders to appear before the HfM (German trade association for the market economy, editor's note) This is where the key decision makers in retail sat down and discussed the major overarching themes. It is also where we sketched out our idea for the quality assurance scheme, not only for meat, but also for fish, fruit and vegetables, and other fresh produce.
From today's perspective, the QS scheme is self-evident to a certain extent. How do you manage to maintain the perception of being distinctive?
Dr. Helmut Born: You can read all kinds of criticism of QS on Wikipedia. One assertion is that we only do things that are self-evident. But the fact that our work is not self-evident, and neither will be in future, is overlooked. Consumers simply assume that our products are safe. We have to get the message across internally that the entire food chain is responsible for the very thing in which consumers trust. This also justifies the effort we invest collectively for this cause. Including in the media, who positively love a crisis.
Guido Siebenmorgen: There are three approaches. The Farmers' Association is well-connected politically and would have to speak to the retailers in unison. There must also be an impetus among politicians to advance the issue to further. We have to make progress with the QM Milch issue. QS has been around for 20 years; it is time to ignite a new stage. If the Farmers' Association were to drive that forward, it would be giving a clear signal. All logic speaks in favour of expanding the scheme further, especially in the fresh produce sector. 
How has cooperation with the food standards authorities changed?
Guido Siebenmorgen: Food standards authorities do carry out inspections, but they are limited in many areas. Qualifications aside, there are not enough inspectors. Yet quality assurance has never been as concentrated as it is now within the QS organisation. I see time and again on the sanction board the cases we have to handle there. We carry out a great deal of practical investigations and consistently apply sanctions. I can't understand why politicians don't pay attention to this entire working model. It's a shame. They could say we will control the controls. QS has a fantastic dataset. There is no better quality assurance scheme in the chain. In any other field. 
Dr. Helmut Born: If controls were only carried out by the public sector, they would be so patchy that consumer opinion on food would likely be different to what it is now. We have an odd situation these days, in that food producers are satisfying the statutory provision for autonomy and accountability in the best way possible through QS, yet state controls do not make the most of this advantage.
QS is the best, largest and most sustainable
quality assurance scheme established on
the market. 
Guido Siebenmorgen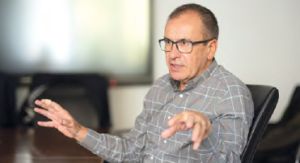 Guido Siebenmorgen was Head of Strategic Buying for Fresh Goods and Production at the REWE Group from 2000 to 2014 and currently acts as an advisor He is a member of the QS Sanction Board.
Several scandals have only come to light in the first place via QS.
Dr. Helmut Born:  Yes, QS sounded the alarm to the authorities on both dioxin and nitrofen, for example.
Dr. Hermann-Josef Nienhoff: The dioxin and nitrofen examples were not previously on the radar. There were no limit values. In this case, we made immediate decisions within our bodies as to how we would avoid and prevent such things in the future. The authorities and politicians would take years to do this. 
Why is that so poorly accepted?
Dr. Hermann-Josef Nienhoff: We openly offer ideas about how things could run more efficiently for all those involved – to avoid duplicated efforts but also to enhance safety. Yet the authorities believe that only they are independent. This extreme statist ideology exists in Germany. In other European countries, controls by quality schemes supported by the economy are recognised. They can be actively incorporated into risk assessments. In Germany, we sadly haven't been able to get this off the ground.
Guido Siebenmorgen:  That's too modest for me. Perhaps after 20 years we can appropriately describe it as the best, largest and most sustainable quality assurance scheme established on the market.