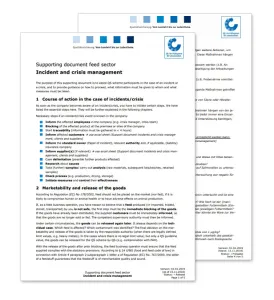 QS has published a new supporting document for its scheme participants from the feed sector to support their incident and crisis management. This is intended to support companies in the event of an incident or crisis and provide assistance on necessary procedures and measures to be taken.
In addition to the supporting document feed sector Incident and Crisis Management, QS has published an annex which is primarily intended for internal use. This contains an overview of individual contaminants or parameters and offers assistance with the most important questions that companies have to deal with when (supposedly) exceeding the limits. The supporting document and annex can be viewed and downloaded from the document center on the QS website.
At the same time, QS has updated and further optimised the content of the Paper of Incident for the feed sector as well as the supporting document Incident Management. The supporting document is used to transfer the information of purchasers or suppliers of non-marketable goods to QS and should be used in combination with the Paper of Incident. The updated versions of both documents are also now available for download in the document center of the QS website.