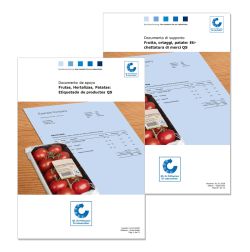 The supporting document Labelling of QS products serves scheme participants as support for the correct implementation of the labelling of QS products on the accompanying documents. The document is now also available in Italian and Spanish - in addition to a German and English version.
With the aid of illustrations and diagrams on the labelling possibilities as well as numerous practical examples, scheme participants will find concrete advice and support in the supporting document in order to adjust the labelling to their own operational requirements (e.g. merchandise management systems).
---
Frutta, ortaggi, patate: Documenti di supporto per la vendita di prodotti QS ora disponibili anche in spagnolo e italiano
Il documento di supporto Etichettatura dei prodotti QS serve ai partecipanti al sistema come supporto per la corretta implementazione dell'etichettatura e identificazione dei prodotti QS sui documenti di accompagnamento. Il documento è ora disponibile anche in italiano e spagnolo, oltre che in tedesco e inglese.
Con l'aiuto di illustrazioni e diagrammi sulle possibilità di etichettatura e numerosi esempi pratici, i partecipanti al sistema troveranno consigli e supporto concreto in questo documento per adattare l'etichettatura alle proprie esigenze operative (ad es. sistemi di gestione delle merci).
---
Frutas, hortalizas, patatas: Los documentos de apoyo para la venta de productos de QS ahora también están disponibles en español e italiano
El documento de apoyo Etiquetado de los productos QS sirve a los participantes como soporte para el etiquetado correcto de los productos QS en los documentos de acompañamiento. El documento está ahora también disponible en italiano y español - además de una versión en alemán e inglés.
Con la ayuda de ilustraciones y diagramas sobre las posibilidades de etiquetado, así como de numerosos ejemplos prácticos, los participantes del sistema encontrarán en el documento de apoyo consejos y apoyo concretos para ajustar el etiquetado a sus propias necesidades operacionales (por ejemplo, los sistemas de gestión de mercancías).
Download Supporting document Fruit, Vegetables, Potatoes: Labelling of QS produce