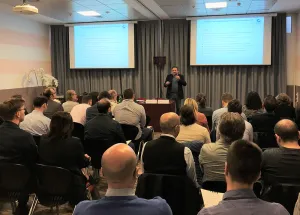 This year QS offered several information events in Italy for scheme participants and interested parties of the value chain fruit, vegetables and potatoes. Among those present were wholesalers, producer organisations, laboratories, certification bodies and auditors. Near Verona and in Salerno, they took the opportunity to obtain first-hand information about the QS scheme and to exchange ideas with the QS employees. In addition, a special training course for Italian coordinators took place.
The possibility of direct exchange without language barriers was created for a total of around 60 participants through the presence of simultaneous interpreters. The QS contact person in Italy, Giulio Benvenuti, also made a valuable contribution to the success of the events with his practical examples.
The participants showed great interest in the QS scheme and were in active exchange and dialogue with each other as well as with our QS team, summarized Sophia Sorg from the International Relations department at QS. In addition to general information on the QS scheme, the three days' agenda included the participation at the production, wholesale and logistics stages, the recognition of other standards and the implementation of the QS residue monitoring.
Almost 34,000 companies in the fruit, vegetable and potato system chain are currently participants in the QS scheme. This also includes more than 5,800 foreign companies that participate in the QS scheme directly or through the recognition of another standard - and the trend is rising. In order to create a uniform level of quality assurance for fruit and vegetables across borders, QS is constantly expanding its support abroad.
Further international information events are planned for 2020.