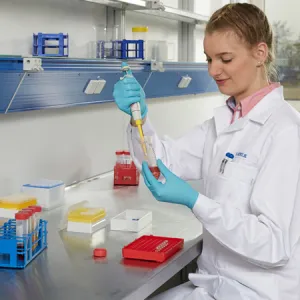 74 laboratories from 19 countries successfully participated in the laboratory performance assessment residue monitoring 2022/2. 84% of the participants passed the test; among the QS-recognised laboratories it was a gratifying 93%. Varying matrix/active substance combinations are used to check whether the active substance spectra offered by the laboratories in routine are mastered. In addition, weak points in the analytics can be uncovered that would not be noticed in the individual routine sample.
52 of the 56 participating recognised laboratories passed the test. Four laboratories are obliged to participate in the next competence test 2023/1 due to their non-passing.
Seven of the 17 laboratories in the recognition procedure also did not successfully complete the laboratory performance assessment 2022/2, as well as one third-party laboratory that voluntarily took the test.
A total of 32 laboratories, including 30 recognised laboratories, were able to identify all active substances without error and quantify them correctly.
About the test design
The matrix of green beans to be analysed had a medium degree of difficulty. From an analytical point of view, the high protein and fibre content as well as the high chlorophyll content are interesting for the work-up and clean-up of the water-rich sample (90%). The focus of the test design was once again on the analytics of metabolites and active substances with a sum-residue definition.
Within the three test materials, ten active substances were tested, including five multi-method active substances (spinetoram racemate, ametoctractin, pirimiphos-methyl, pyrethrin racemate, bifenazate diazene) that had not been tested in previous tests. In addition, there was the herbicidal active substance diquat, which is considered difficult to analyse and requires the use of a single method. Some of these active substances caused difficulties for the participants, which was reflected in an increased number of quantification errors. With metaflumizone, an active substance already used in the 2020 laboratory performance assessment was included for re-testing, for which there was a high analytical error rate at that time.
The results of the laboratory performance assessment 2022/2 and especially the analytical abnormalities will be discussed at the upcoming lab assistant meeting in February 2023 in Berlin. Further results in detail can be found here: