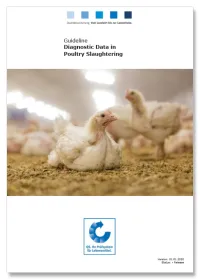 On January 1, 2020, a new version of the guideline Diagnostic Data in Poultry Slaughter will be valid. The revised version contains essential changes in the indication of reasons for rejection as well as in the recording of breast skin changes.
In future, a distinction will be made between five reasons for rejection:
changes in the internal organs
skin and muscle changes
slimming
carcase abnormalities
other
In future, abattoirs will have to indicate the number of animals per reason for rejection.
In addition, breast skin changes will have to be recorded in three classes and the number of animals per class will have to be entered in the database. In addition, the date of admission for fattening must be indicated for each delivery lot. Abattoirs must also report information on the camera system used.
If you have any questions or comments, please contact us using the form.