Feed safety scheme holders in Europe, unite to harmonize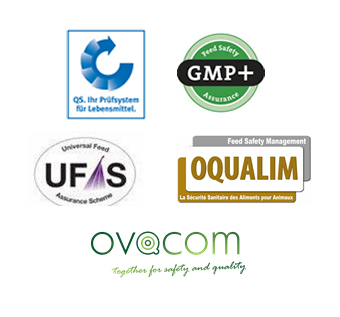 Memorandum of Understanding on the prolongation with one year of the temporary mutual recognition between OQUALIM and AIC, GMP+ International, OVOCOM and QS effective as from 1st of January 2020
On November 19th , the four organizations AIC, GMP+ International, OVOCOM, QS signed a Memorandum of Understanding (MoU) with OQUALIM in order to continue the work towards full mutual recognition. From January 1st 2020, only companies having a valid OQUALIM certificate with scope 'RCNA International' are authorized to deliver feed or services into the other schemes. The certified sites must comply with the specific requirements mentioned in Annex 1: Minimum requirements on selecting, monitoring and evaluating suppliers. The performance of unannounced audits is also required.
The OQUALIM standard RCF for feed material production is not part of this recognition. Therefore, ´RCNA International` certified compound feed or premix producers must use certified suppliers (GMP+FSA, FCA, FEMAS or QS certification) or use the Gatekeeper protocol for Processed Feed Materials.
The prolongation of the temporary mutual recognition covers the activities of
Production of compound feed, mineral feed, liquid feed, milk replacers and premixes, and:
Distribution and trade of compound feed, mineral feed, liquid feed, milk replacers, premixes, feed materials and additives for animal feed as long as these activities are combined with a manufacturing activity.
The temporary mutual recognition is valid for a transition period of 1 year (1/1/2020 - 31/12/2020) in which all parties involved will further work towards a full recognition.