QS certification mark remains on products
and documents
As of April 1, 2023, QS Qualität und Sicherheit GmbH (QS) will combine its business activities and communication under a new corporate logo. The QS certification mark will remain as a mark for safe food that is produced, marketed and independently controlled under binding quality requirements. Consumers will find the familiar certification mark as usual on products from QS-approved production and marketing.
For more than 20 years, we have been the industry's institution for safety in the food production in Germany and Europe. From this core business, we have developed numerous new fields of action together with the branch, such as sustainability, further and advanced training or, most recently, quality assurance across all stages, in the pet food sector, explains Dr. Alexander Hinrichs, managing director of QS Qualität und Sicherheit GmbH. The new QS corporate logo communicates QS as the sender behind our varied offering. The logo confidently emphasizes our corporate color and, in deep blue, exudes the practicality of a trustworthy scheme.
QS certification mark remains
The blue QS certification mark continues to label meat and meat products, ham and fruit, vegetables, potatoes, which are produced and marketed in compliance with the liability quality requirements. It can be used by authorized QS scheme participants, certification bodies, coordinators and laboratories as before in accordance with the style guide (for the QS certification mark) both for presentation on QS certified products and on packaging materials, delivery notes and shipping documents.

The new corporate logo represents all business activities of QS Qualität und Sicherheit GmbH.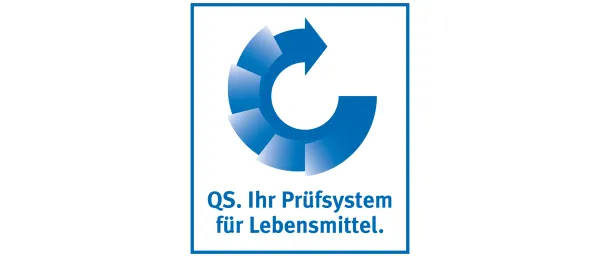 The familiar QS certification mark for products from QS-approved production and marketing remains.