What does the QS certification mark stand for?
The QS certification mark stands for certified quality assurance of fresh food – from farm to shop! Whether it is meat, meat products, fruit, vegetables or potatoes – food with the QS certification mark has an accurately documented and monitored lifecycle. Therefore, the way of a piece of meat from animal owner via abattoir and butcher, and for fruit and vegetables from producer via wholesaler, to the shop is clearly traceable.
QS. Quality scheme for food covers all stages of the food chain. Strict rules apply to all participating companies in Germany and abroad, for example regarding traceability and hygiene. Auditors and independent certification bodies check regularly whether all requirements are met.
The most important QS requirements at a glance: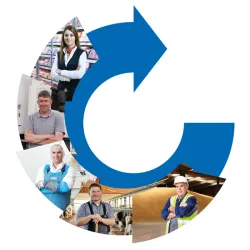 Meat and meat products:
Food retail
The optimal storage and handling of goods in the supermarket ranks among the most important QS requirements. To ensure compliance with the cold chain, the supermarket staff has to check the temperature of goods regularly. In all areas of the market, high standards of cleanliness and hygiene must be observed and specification regarding staff hygiene must be implemented. Regular staff trainings ensure that all hygiene requirements are adhered to.
Meat processing
Livestock must be slaughtered in compliance with animal welfare standards. Strict hygiene rules apply to meat processing companies. In addition, the goods must be constantly cooled, appropriately packed and clearly labelled as well as properly stored.
Livestock transport
Only QS certified livestock transport companies are allowed to transport livestock. During transportation, animal welfare and safety have the highest priority. The transportation companies must check the animal welfare regularly and make sure that the livestock is supplied with sufficient fresh air and adequate space.
Livestock owners
The humane treatment of animals, regular visits by a veterinarian as well as hygiene checks and the responsible use of veterinary drugs rate among the most important QS requirements for livestock owners. Additionally, livestock owners may only feed their livestock with feed from QS certified feed producers.
Feed producers
Feed producers may only use flawless raw ingredients. They must continually conduct hygiene checks and must avoid any type of contamination. Goods must be regularly analysed for residues of heavy metals, plant protection products and pollutants. In addition, the feed must be properly stored.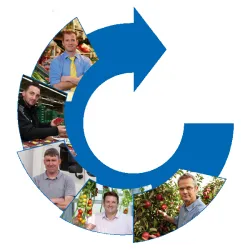 Fruit, vegetables, potatoes
Food retail
Incoming goods inspections ensure that only top quality QS produce reaches the stores. Correct labelling, optimal storage and handling of goods rank among the most important QS requirements. This includes also the compliance with cooling regulations. In addition, it must be guaranteed that high standards of cleanliness and hygiene are observed in all areas of the store and that specification regarding staff hygiene are implemented. Staff trainings on QS requirements take place regularly.
Wholesale
Incoming and outgoing goods inspections ensure that customers only receive flawless QS produce. To avoid contaminations, fruit and vegetables may not touch the ground or walls during storage. All requirements regarding cooling must be met and have to be checked regularly by means of temperature controls. High standards of cleanliness and hygiene must be observed. Samples of the goods are taken on a regular basis and are analysed for residues of plant protection products.
Fruit and vegetable producers
In the cultivation of fruit, vegetables and potatoes, planting materials, water quality, fertilization and the use of authorized plant protections products are monitored. During harvesting and transport of the produce, high hygiene standards must be observed. A high level of work safety for workers prevails in all areas. Regular residue analyses in laboratories are carried out in order to check that only authorised plant protection products are used in the required quantity.