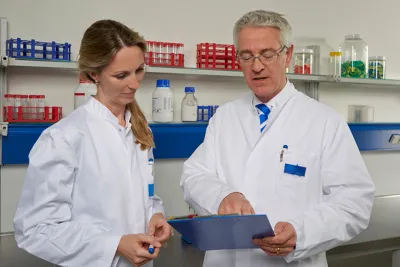 In autumn 2019, QS put the analytical competence of the QS-recognized laboratories and those in the recognition process from Germany and abroad to the test for the 27th time. The focus of the autumn test was on analysis, with the raspberry functioning as the test matrix.
About the test design
The weakly acidic raspberry matrix is considered a comparatively easy matrix to analyse. The focus of the test was on analysis. Of the eight active ingredients contained in the test material, three were abamectin, bifenazate and zoxamide, which had never been used in the previous performance assessments.
With the active substance captan, the test material also contained an analytically very demanding substance. In 2016, the European Commission changed the residue definition for captan. Since then, a sum maximum level has applied to Captan and its metabolite tetrahydrophthalimide (THPI).
The phosphonic acid to be determined by a single method was tested again, as this substance is currently one of the most frequently found residues.
Results at a glance
90% of the QS-approved laboratories successfully completed the test. One recognized laboratory reported a false positive detection of the active substance. Among the laboratories in the recognition procedure, the proportion of tests passed was 57%, among the voluntarily participating third party laboratories 25%.
Quantification errors frequently occurred with the active ingredients captan, bifenazate, phosphonic acid, abamectin and spirodiclofen. In 15 % of all possible assessments, active ingredients were not correctly quantified. In the recognized laboratories the proportion was 6.7%.
A possible cause for quantification errors in captan is the co-detection of its metabolite tetrahydrophthalimide. Depending on the measurement method used (GC or LC method), different procedures must be followed to determine the metabolite. Otherwise it can happen that with the GC methodology used up to now, higher sum values are obtained than the value actually contained. The test results have shown that there is still considerable potential for improvement.
The analysis of bifenazate is also considered to be difficult, as the metabolite is formed during the analysis due to its pH dependence, which means that this substance must be included in the analysis. In the residue definition of bifenazate, the metabolite bifenazate diazene is included.
We have summarized a compact overview of the results for you here.
QS laboratory performance assessment - International field of participants enlarged, QS-recognized laboratories with good results