QS scheme participants from meat wholesale, ensure that meat and meat products arrive safe and fresh in the food retail branches and in other companies within the meat industry.
With their participation in the QS scheme, wholesalers commit themselves to professional self-assessments, complete documentation and traceability. In addition, they guarantee the compliance with cold chain requirements to ensure product quality.
Compliance with and implementation of these requirements is checked by qualified auditors in independent audits. With the participation in the QS scheme meat wholesalers signal to their customers that all operational processes are also checked by independent sources.


Relevant documents
You can find the documents for your participation in the QS scheme here: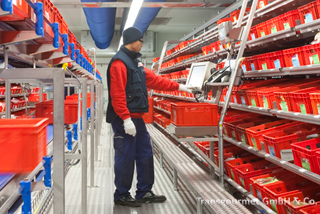 ---
Participate in the QS scheme
If you are a wholesaler or an agency, that acting with meat and would like to participate in the QS scheme, you can register via the QS database, where you can choose an approved certification body that will perform the first audit on your premises.
After a successful audit, the certification body enters the result in the QS database. Your scheme agreement will then be sent to you for signing. Once the agreement has been signed, you can deliver your goods into the QS scheme.
---
Point of contact for questions and recommendations