Meat processing - ensuring quality and traceability
Meat is a valuable and sensitive foodstuff, and the requirements for handling this product are extremely strict. Companies which process meat in the QS scheme procure their raw material from businesses that are also QS-certified. This ensures seamless quality assurance and traceability from the outset. QS supports meat-processing companies by defining practice-oriented requirements that are summarised in well-structured guidelines and checklists.
Independent and qualified auditors monitor whether and how requirements are fulfilled, ensuring that everyone delivers quality, from farm to shop.
Relevant documents
You can find the documents for your participation in the QS scheme here:
If your meat processing company would like to participate in the QS scheme, you can register via the QS database, where you can choose an approved certification body that will perform the first audit on your premises.
After a successful audit, the certification body enters the result in the QS database. Your scheme agreement will then be sent to you for signing. Once the agreement has been signed, you can deliver your goods into the QS scheme.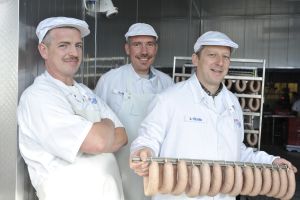 ---
Recognition of other standards
QS certification is recognised by many international standard owners. Conversely, QS also recognises other standards in the supply chain.
Click on the following link to find out which schemes you can deliver into based on your QS certification and which standards are recognised by QS.
---
Point of contact for questions and recommendations