Quality assurance in the shed
Farmers who keep broilers, turkeys or peking ducks take care of quality assurance in the shed: the animals are looked after conscientiously and kept under optimum conditions. In addition, the livestock farmer ensures appropriate feeding and pays attention to a high standard of hygiene on the premises. The same applies to the parent animal farmers and hatcheries in the QS scheme.
QS supports the poultry farmers in this area and has compiled all the important requirements in practice-oriented and well-structured guidelines and self-assessment checklists. Independent, qualified auditors regularly monitor compliance with the requirements.
The fact that demand for QS poultry is consistently high is an excellent argument for participation in the QS scheme. Livestock farmers in the scheme have advantages when it comes to marketing their products. Moreover, the QS audits help the farmers to prepare for official inspections like the specialised statutory or cross-compliance inspections.
Relevant documents
You can find the documents for your participation in the QS scheme here:
---
Participate in the QS scheme
If you are a poultry farmer and would like to participate in the QS scheme, contact a coordinator. He will advise you on all questions relating to the QS scheme and is your first point of contact. He will help you with registration, organise the audits and arrange your participation in the monitoring programmes.
If you are interested, choose a QS-approved coordinator from our list. He will then conclude a written declaration of participation with you.
If you are a hatchery and would like to participate in the QS scheme, you can register via the QS database, where you can choose an approved certification body that will perform the audit of your business.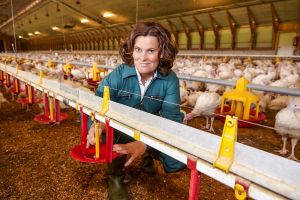 ---
Point of contact for questions and recommendations